OUR ENGINEERING AND TOOLING DEPARTMENT
We work closely with our customers to understand their specific needs and requirements, and we use this information to design and build custom tooling that ensures the highest level of precision and accuracy. Our goal is to provide our customers with the best possible product that meets their exact requirements.
We can build a prototype of your silicone hose and ship it in a matter of days.
OUR UNIQUE APPROACH
Our unique focus in custom development and high mix, low volume methodology allows us to be one of the most flexible and agile manufacturers in the industry. Our engineering staff has a vast wealth of professional knowledge. All of our products and tooling are built in our certified facilities, meeting the highest quality standards.
With a wordwide network of suppliers and low-cost manufacturing facilities, THERMALFLEX can deliver custom silicone Hoses on time to any country. THERMALFLEX can design and build Silicone Hoses from customer design prints, re-engineer to enhance the products to support customer needs, and reverse engineer Silicone Hoses.
WE'LL MAKE THE TOOLING FOR YOUR HOSE
At our company, we understand that every customer has unique needs when it comes to silicone hoses. That's why we offer in-house custom tooling services to help you design and build the perfect hose for your specific application.
Our team of experienced engineers and designers use the latest technology and techniques to create custom tooling for silicone hoses. Whether you need a unique shape, size, or color, we can help you create the perfect hose that meets your exact specifications.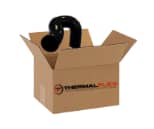 SEND US YOUR DRAWING
Send us your drawing or a physical sample. We'll send you a quote for the hose and the *tooling.

WE SHIP FIRST ARTICLE
We'll make the tooling, hose and ship you a sample for your approval in just a few days.

APPROVE OR MODIFY
Test it out and give us your feedback, or approve for production.